Protect Your Family From Scams
Unfortunately, scams exist and they are not good to get caught in, they can cost you a lot of money and embarrassment. It is important to understand ways in which you can protect you and your family from getting caught out in scams.
I think the old saying 'too good to be true' is very apt and I have used this on more than one occasion. However, the only way that you will get the message through to your family including children, is to show them what a scam looks like. If you get an email read it to them, obviously don't click on any links but show them how to spot the errors on the page or what to look for. Unless you show these to your children and family they mightn't be aware of the problem.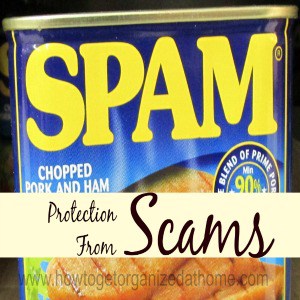 For me it was a great lesson in understanding how poorly written emails can highlight the fact that they aren't right and this is a way to get alarm bells ringing.
Internet Scams
Phishing has taken on new levels; each time I read a new email scam that comes through, I find them interesting; the poorly constructed emails and how they are targeting individuals to get information. They have links embedded into the email and enticing the email reader to click and input details in to your account on a bogus website.
What to do with the emails? You have a choice, delete is my favourite button on the internet, if I dislike it I press delete. Chain letters do not bother me, or, emails if I think they are scams I will press delete, even if I am slightly suspicious that there is something not right.
On the other hand, authorities can only help the public if they know the emails and scams that are coming through and it is possible to forward these on to a special department, Action Fraud is there for you to ensure that any scams that are filtering through to people get caught and dealt with in accordance with the law.
It is important you are safe when you are online and take measures to ensure that your family are safe too. Setting up restrictions on your computer is great, help people who are not computer literate to understand what the negative impact can be to them if they click on a link that is trying to get their details and their money.
Phone Scams
These are still happening and they are becoming more believable each time; it is important not to give your details to anyone who phone you. It is possible for people to try and trick you into giving your card details over the phone, even your pin number for your bank card. It is important to stay strong and not give them any information.
Some try to convince you that there is a problem with your computer; they are trying to gain access to your computer to uncover your account details. It is important that you don't listen to them or to do as they ask.
I have kept them on the line purely for my entertainment, and it is fun if I'm bored and lonely. Even so, it is important that you shouldn't have this type of call. The job I used to work for wanted cold calling, they called it warm calling because we had details; I refused to do sales like this but got forced to book appointments. It is embarrassing you have to phone people at all, so glad I am not in that position any more.
Ask the person phoning to stop, ask them to remove you from the list. If you hang up, they will call again.
I think it is important to remember, if they are trying to convince you that there is a problem, which you are unaware of, then take independent steps to verify the situation. Don't ask them to call back and don't give out any personal details no matter who they say they are.
Therefore, there are ways in which you can protect yourself and your family; it is important to know what to look for and this is key to understanding how to protect your family and how your family can help to protect themselves too.