How To Fight Weeds In Your Garden
Knowing how you intend to fight weeds in your garden is important, are you OK with the chemical attack, or do you prefer a more natural approach? Only when you know how you feel about your chosen method of removal should you then consider how to tackle the problem. I am not against chemicals, I just choose not to use them because I have pets and I don't want to run the risk of exposing them to some chemical poison. I feed my chickens any slugs I find in the garden, I don't want to poison them or to reduce the amount of protein rich slugs they can eat.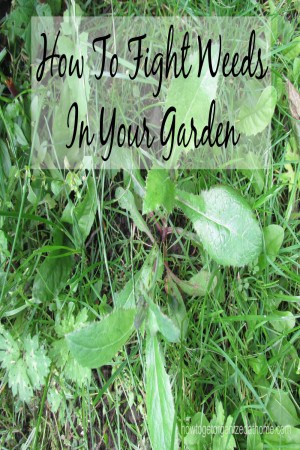 How I Fight Weeds
I use a natural method of weed control and this literally means if I see a weed I remove it. However, how you define a weed is a plant that is in the wrong place, and yet I have weeds that I have allowed to grow and join the natural position in among some plants purely because I love the colour and the shape of the weed.
Whereas Fox Gloves to me are a menace, they sprout up in places that I don't want and they come back and haunt me year after year. Now I have a patch that keep springing up in the grass! This really annoys me and to me this plant is a weed, one I just don't like and I do everything in my power to remove these weeds from my garden.
I like to have full borders and yet I dislike paying for large plants so it has taken a while for my borders to look good and the more that is there the less I have to weed and this is fine! The less open space you have in your border the less places for weeds to take hold, I do like a nice thick mulch, it looks good and it can suppress the weeds from taking hold. Unfortunately, if a weed does take hold then it has all the nutrients that it needs to run wild.
This is why it is important to keep on top of any weeding. The longer you leave it between weeding, the more work you will have to do.
My Grass Is A Disappointment
This year my grass is appalling! It is full of weeds, bald patches and the ever-annoying Fox Gloves, but I am not too worried about it now, we are still making our way through a garden change, it is very slow but we do live in Cumbria and the weather hasn't been great this year!
I am happy to put up with the grass, weeds and all for the time being, when the rest of the garden comes together then I will look at the grass and decide what I am going to do! I am thinking about digging it all up and start again!
Therefore, how you fight the weeds in your garden will depend on if you are going to opt for the chemical method. Yes it is quick but whilst I am not against it in principle it isn't something I would choose, for a start it costs money and that would need adding to my budget and I am to mean for that! I prefer to weed by hand and the more frequently I do this the less time I need to spend weeding and I know I am getting some fresh air and exercise too.
If you are looking for more articles on this topic head over to the landing page where you will find links to other posts on gardening.