With bonfire night not far off, you might be considering having a bonfire in your garden to celebrate. It is important that you check if your council allows bonfires in your area, in some places they are banned completely.
If you are able to have a bonfire it is important that you put your family's safety and your home at the forefront of your mind. No one plans an accident but they happen. If you have rules in place to protect your family and your home in case of an emergency this can help preventing something devastating happen.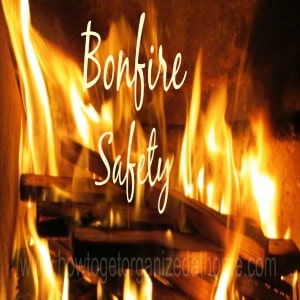 When Making Your Bonfire
With the nights getting colder wildlife are looking for a warm and dry place to hide. Often they mistake the bottom of a bonfire for a great place to spend the winter; little do they know that you intend to set it on fire. Therefore, before you light the fire make sure you first check for animals like hedgehogs hiding in the bottom.
Make your bonfire as far away from your house as possible, this helps preventing the fire from spreading. Check above where you want to light the fire, to ensure no overhead cables are in the way, you really don't want to set these on fire.
Don't light a fire that is too close to other plants including hedges, they will quickly catch on fire. Be careful the items that you choose to burn; flammable objects like pressurised cans are not safe to burn. Items including tyres that, when burnt, releases toxins into the air and this will be dangerous to you and others nearby.
Lighting The Bonfire
It is important that you are considerate to your neighbours before you set it alight; don't use petrol as a way to start the fire, this can cause the fire to get out of control quickly.
It is important that you keep a bucket of water handy near the bonfire in case of any problems that you might need to deal with, including burns.
Keep your pets inside when you light your bonfire, it could scare them and they could run off and cause an accident or get themselves hurt.
If you are having fireworks with your bonfire it is important that you don't throw these onto the fire, it can set them off in the wrong direction and they could cause damage to you, your family or another person including your neighbours.
Alternative To Having Your Own Bonfire
There are some great alternatives to having a bonfire at home. Check your local area for bonfire and firework displays coming up. This is a great way to experience the atmosphere without spending too much money. The first time my eldest heard fireworks it scared him so much he didn't want to be near them, we later found out he had hearing problems and this made the noise to him, terrifying.
It didn't last long and once his hearing got sorted he enjoyed the displays too, but it meant that we had to keep him away from fireworks until his hearing got better and this was hard for the rest of the family who enjoyed this time.
It is important to remember that fireworks and bonfires can cause damage to people and property. It isn't something that's planned but it can happen and protecting your family is your highest concern, which is why it is better to pay to go and see a display because you are then enjoying the time with your family and not worrying about other distractions that could cause an accident or worse.
Therefore, if you are thinking about having a bonfire in your garden, ensure that you have considered all the risks to you, your family, neighbours and the wildlife before you even start to build. It might sound like a great idea, but in hindsight it is often better to visit an organized display where your safety gets taken into consideration.