Tools that you will need for an outside space will vary depending on the type of garden that you have and your relationship with your garden. Some people love being in their garden, whilst others just manage the minimum to keep it ticking over. However you view your garden, there are garden tools, which are essential in every garden.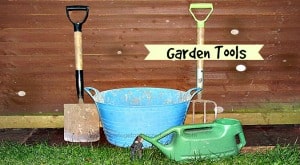 Garden spade: It doesn't matter the size or the look of the spade, some prefer bigger ones or little ones for the little helpers is always a great idea.
Secateurs: These are great for general tidying up around any garden; there are always flowers that need de-heading or a plant that might need trimming. What is important is to get a good pair, one that works when you need it too and with minimal effort. Cheap ones are not all bad but they will need replacing on a regular basis and will in the long-term cost more.
Fork: Just like a spade, this can come in a multitude of shapes and sizes and it depends on the size of your garden and what you are comfortable using. You can choose from a multitude of designs and sizes, it will just depend on what your needs are for your garden.
Watering can: These are a vital piece of equipment for your garden, they use less water than a hose pipe and if you collect your own rainwater in a water-butt, it can reduce the amount of tap water that you use, which can save you money if you are on a water meter.
Container: As big as a wheelbarrow to as small as a bucket; it is a means of transporting items around your garden, from garden waste to collecting your tools you need. I use a container when I weed; it keeps all the weeds together and out of the garden. I can carry this to my garden waste bin, which the council collects, or to my composters; it depends what I have collected as to where the garden waste goes.
The garden tools that you use are personal to you and to meet your needs in the outside space that you have. It is important that you understand how to use an item carefully as accidents in gardens are common. It is especially important if you have young children helping in the garden; teach them to use items carefully. I remember as a child a family friend's son, who had no experience of garden tools at home, had no knowledge of how to use a fork safely, and ended up putting the fork into his foot.
While it is impossible to prevent some accidents happening, teaching children how to use items carefully will last them a lifetime.
Choosing Your Garden Tools
Choosing the right garden tools is important, making sure they are exactly what you want and need is important. I had an old push lawn mower, it did the job and worked great, that is until it broke. I needed a new lawn mower and without giving much thought to what I wanted, I bought a new one. Whereas before I loved cutting the grass, it has become something, I now hate. The lawn mower is awful, I can't get the blade to cut to a short enough length; I think it is too long. It just doesn't do as good a job, so now I have to put up with an inferior product until it breaks and is not repairable, and all because I didn't think about the type of lawn mower I wanted.
Therefore, the tools that you use in your garden are important, getting the right ones that meet your needs and you can even buy special kids gardening tools to meet the needs of your children too. While the style and size of the tools will vary, the most important items that you will need are some sort of container, fort, spade, watering can and secateurs to meet the basic needs of your outside space.