If you are looking to save time closer to the big day, it is possible to prepare some things in advance and freeze them. Some foods are great for being prepared in advance and can make great freezer food. It is quick and easy to cook, reducing the stress that often comes with preparing meals for your family. Not all food is suitable for freezing and it is important to learn how to freeze certain foods and what you should not freeze, this includes food that has been frozen and defrosted, you should not re-freeze.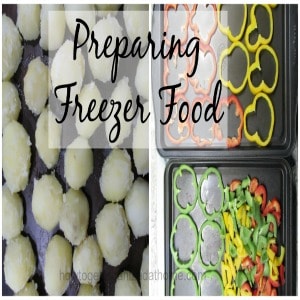 Freezer Foods that You Can Prepare Ahead Of Time
If you are expecting lots of people this Christmas or you just want to have less time in the kitchen, it is possible to do some preparation in advance saving you time meaning you can spend more time with your family rather than being stuck in the kitchen and missing out on all the Christmas fun.
The freezer food items that I prepare in advance are:
Roast potatoes, they get peeled, parboiled, shaken and left to cool before being placed on a baking sheet for a few hours in the freezer to freeze before being transferred into bags ready for use on Christmas day.
Fresh vegetables get chopped, frozen flat on trays, before added to bags. If they are frozen flat it means they won't stick together in a frozen mass, which you can't separate. It is important to know which vegetables can be frozen straight away and which items you need to blanche first.
Cheesecakes are very popular in our house and I tend to make the base's ahead of time and freeze these. Then I just have the topping to make on the day, I don't like the topping frozen, I have tried this but it didn't freeze well.
Pies and crumbles for puddings are all made ahead of time and are frozen, I am a rhubarb fanatic and have pies and crumbles ready to go in freezer food.
Cookies are great to have as a nibbles over the holidays and I do like to know the ingredients that go into them, I don't want to overload my friends and family with hidden sugar and additives that I can't even pronounce let alone know what they mean. So, I make the dough, cut them up and flat freeze them for a couple of hours and then store them in the freezer for when I need them.
I normally make mince pies and cook them first before freezing them, but this year I have made them and frozen them before cooking so they are piping hot when I serve them.
Freezer food doesn't have to be pre-purchased items that you buy from the shop, they can be wholesome food that you prepare yourself, knowing the ingredients that you use can help if you have allergies or you want to provide good healthy food for your family.
Therefore, while there are so many jobs that you need to address last-minute with different preparations including cleaning, some tasks in the kitchen can be prepared in advance and can help by saving you time and missing those precious moments with your family and friends. I love cooking but there is no way, unless I am in the mood will I spend hours in the kitchen at a time. When the kids were little, it was more of a necessity but it was a way to get them involved too, in reading and measuring and cooperation with one another. Now I am thankful that I learnt these tricks and tips and it gives me so much more time for the fun stuff.