How To Take Care Of Indoor Plants
I love to have plants around me indoors; they make my home feel complete. There was a time when I had no plants and it did make me feel empty, as if something important was missing. I don't have as many as I would like but I know my time constraints and what I can look after, any extra and I worry that I would start to kill them off. I have found my happy medium, for the moment. I am not one for spending money, so if I do find a bargain then that is often how I end up with a plant or two.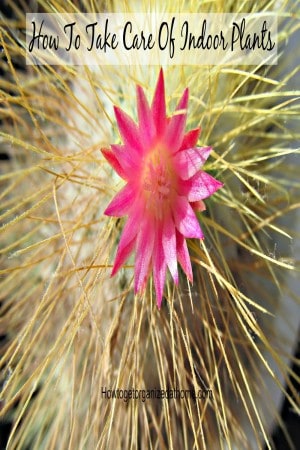 How To Take Care Of Indoor Plants
It is not that difficult really, yet there are some people who just can't keep an indoor plant alive. I really do not feel that I am the expert in any form, but I do manage to keep the plants I have, alive and thriving. Some types of plants I am better at than others though!
One of the easiest ways to kill an indoor plant is to water it too much, this is probably the reason my plants are still alive, I am from the group who forgets to water. Nevertheless, it has meant that my plants are doing well and living. In the different seasons plants will need different requirements of water; in the hotter summer months they will need more compared to the cooler winter months.
Remembering that the food the plant gets is only available from the soil in the pot, unless it is a carnivorous plant. For this reason you must consider the food, if it is a flowering plant then you will need to ensure that you do feed it regularly. If it is a leaf plant, and no flowers then it isn't likely to need much food, however, you will need to consider, when you re-pot the plant, to ensure that you think about the nutrients then.
You must keep leaves dust free, this is the bit I hate, I tend to give them a shower to try to remove the dust. The thought of dusting the leaves isn't very appealing. However, I am more determined to improve my plants and I might have to add this step into my routine on a more regular basis.
The one issue that I am having is with mould. I have two terracotta pots, and they keep producing a white mould on the outside of the pot. I am constantly cleaning the pots but the mould comes back. I can only assume the pot is causing the problem, as no other pot has this mould; I am going to have to find a way to seal the pot to stop this mould growth. This is a shame because I choose the terracotta as a statement and this might not have been the right decision.
How To Take Care Of Indoor Plants While On Vacation
If you are going away on holiday it doesn't mean the death of your indoor plants, some preparation in advance can ensure they are still healthy when you return. Many indoor plants will last a week without needing any water, however if you are going away for longer it might be a great idea to think of alternative means of keeping your plants hydrated when you are not there. Some people opt for a neighbour to pop in to water, however this isn't always an option and there are things that you can do to help.
Place plants in the shade, this will protect them from drying out too quickly
You can purchase water reservoirs that drip water into the soil; an adapted bottle will do this too. When I was thinking about this idea a search on the internet came up with many different options that are all possible. For me the most simplest design was Gayla Trail's article called 'Make your own pop bottle drip irrigation system', the whole idea of creating something, is so that it works and this system was what I envisaged when thinking about the idea of using a pop bottle to help water plants.
An absorbent mat in the sink and plants placed on top on the draining board will suck up the water as and when they need it.
It is key that you read up about the care of each plant, their needs are often different and getting the environment and their needs taken care of, can help to increase the likelihood of success of the indoor plant surviving.
Therefore, it is possible to have indoor plants that survive and thrive in your home. They can give you cleaner air to breath and a more homely feel. I also feel that they can add the perfect balance to any room where they are in.
If you are looking for more articles on this topic head over to the landing page where you will find links to other posts on gardening.