Halloween is a time for dressing up and enjoying the holiday that celebrates all things spooky and scary. It is about having those weird and wonderful creations that all cost money. It is important that you budget for this time of year and ensure that your Halloween doesn't cost more than you can afford.
There are ways in which you can have a great time and for a minimal outlay in costs. This might mean some hands on work too, but it is great family time to enjoy.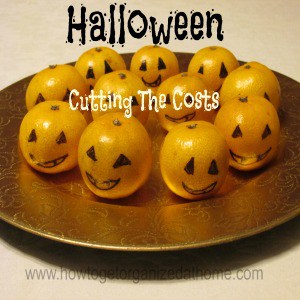 Halloween Food
The amount of food ideas that are out there, which cost little money is great and they can look so good too. I spent just ten minutes decorating a pile of Satsuma's to look like miniature pumpkins and drawing on the skin with a permanent marker hasn't harmed the fruit, it is still edible but looks great too.
If you spend time and make some goodies, they often come out cheaper than buying them, they mightn't be perfect but having a go is part of the fun of the holiday too.
There are some simple ideas to make some great items cheaply, try baking some gingerbread men and instead of the usual decorations try drawing a stick skeleton instead. Plain white biscuits with a splattering of red food colouring look great and are easy to do.
It is about making the ordinary look a bit different and children and adults can have so much fun with these activities. Don't forget to use up the pumpkin that you have scooped out; you can make this into a number of different Halloween themed food items.
It is difficult to please everyone and it is part of Halloween to get candy; for me, any candy or food a child gets from trick or treating from places they don't know, it is important to ensure they have wrapping on. This helps to ensure they are not consuming anything that could make them ill.
Halloween Costumes
Making your own costumes can be fun if you are trying to save money. It is about thinking outside the box. You might be able to pick up some ideas from some of the expensive outfits and put something together from a few items picked up cheaply from a second-hand store.
Some great deals are possible from people selling old costumes that might be in great condition, ready in time for the parties to begin. You will need to pick this up because you might want to wash them before wearing them.
If you live near a place that rents out costumes then this can be a great way to get an outfit for the night. However, you will need to hurry to ensure they have anything left; some places will be busy with orders for costumes before the night.
Halloween Decorations
It is possible to spend a fortune on decorations if you are not careful. What is important is, if you are buying decorations and this is in your budget; buy something that you can use again the following season, except the pumpkins. This way you will have items to use each year.
It is also a great family project to make some Halloween decorations with your family.
You can make some great ghosts from sheets draped over objects that you can paint eyes on, make sure they are old sheets first. Spider's webs from wool and cardboard silhouettes that you can paint bright colours or just have them dark, hanging from the ceiling to scare people.
You can even create elaborate designs in your pumpkins; they don't have to be the standard face. There are some great designs coming out on these each year and it is great to try something new.
There are ways in which you can have a great Halloween on a budget, it is about planning a set amount of money and even if you are not that creative have some family fun this Halloween season, without spending more than you can afford.