Budgeting For Christmas Presents
With the run up to Christmas well and truly underway, you should have an idea at least; of all the people, you need to buy gifts for and the money that you have budgeted all year to pay for it.
Christmas Budget
I started my budget back in January. I look at the money coming in and the amount that I think I will need for the holiday season and I divide that by 11. I try and do all of it from the 11 payments I make into my account and then the December payment is like my Christmas bonus for saving hard.
I then put this money away each month and it is ready when I want to start my Christmas shopping.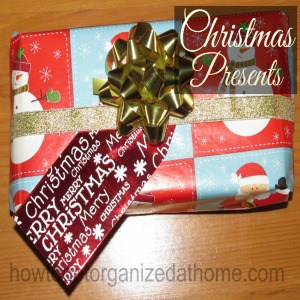 I break my budget down into different sub-categories, this ensures that not only do I have enough money for the presents, but it covers postage and food too.
My sub-divided categories are:
Gifts
Food
Postage
Clothing
Entertainment
Breaking Down Your Gift Budget
It is important that you break down your gift budget and to do this you are going to need an actual list of all the people who you intend to buy for and the amount of money that you would like to spend on each person. At this stage you are just writing down what you would like to spend and then you can change this when you add up how much money you will need.
If you have more money allocated than in your budget you need to do some adjustments, so that the money you have will cover the money you want to spend.
It might mean less money for some of the people you want to give a gift to, I don't add myself or husband into the gift list, we chose many years ago that we wanted to give more to the children and so we forgo our presents and this works fine for us.
Reducing The Christmas Money Stress
It is possible to reduce the stress that you feel around the holiday season if you take control of your budget. Children don't need lots of high ticket items, especially if you can't afford them. Children have to learn the value of money and sometimes it is too easy to buy them everything they want and to put the purchases on some form of credit. This is not going to make you feel better and to be honest no child needs more items than they do the love and support from a parent who is not stressed about the money.
There are many ways to make memories with your children without spending loads of money. It is these memories that they will cherish, toys and gadgets will go memories will live on for a lifetime.
This is how traditions get made in families; it is not always about the money, whilst it is nice to have all the money to buy whatever your heart desires, this isn't possible for the majority and it is important to teach children that sometimes you do have to go without.
Talking to your family and discussing your budget is important, you might find that a family member is struggling too and hasn't the budget to purchase a gift and they just didn't know how to bring up the topic of conversation.
Therefore, it is important that you know how much money you have for your family to spend at Christmas; this will ensure that you see the New Year in without a lot of debt to follow.