I know that many people have already started or even finished their Christmas shopping; however, there are many people still to start or to make a plan as what they are buying or how much they are spending. However, there are five areas that you must not forget which can actually help make your shopping experience easier and more enjoyable. They can take you through the whole process and help you to stay on budget.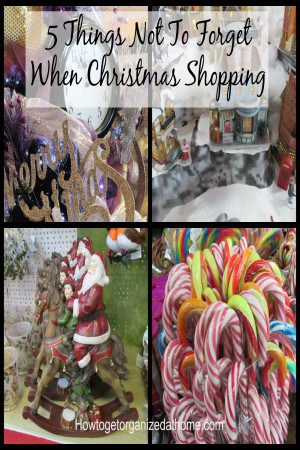 5 Things Not To Forget
For many people Christmas shopping is not a pleasant and enjoyable experience, they go shopping without plans or budgets already in place and end up spending more money than they wanted to and on items they didn't really want.
It is possible to go Christmas shopping, have an enjoyable time, and purchase the gifts that you want.
Follow these five things to a more enjoyable Christmas shopping experience:
Planning: this is the first and most important step; how do you know what you want or how much you need to buy if you haven't started out with a plan? This helps to set the seeds for your shopping trip if you go shopping without planning you might be more tempted by the browse aisles that entice impulse purchasing. Knowing whom you need to buy for and helps to generate ideas for gifts and giving.
Budget: setting your budget carefully will ensure that you have enough money for all the items that you need. You might not spend as much as you would like, but spending only the money you have will save big bills in January. It is amazing the amount of money that collectively adds up and reducing the amount of credit you use, zero credit in my opinion is the best option, will mean that come January you are not trying to pay off those credit card bills. Your money will work harder for you and not add to the profits of the credit company. If you are looking for more information on having a debt free Christmas then visit this article, it will tell you all you need to know!
Research: knowing what the prices are of items is a great way to know if that item is within your budget. It is a great way to note down prices of items you are considering and finding the best If you buy online, ensure that the company states the delivery time and it fits in with your needs. It also allows you to think of ideas as to what a person might like; I am all for buying gifts, but I like useful gifts, not just going to add clutter for your loved one. Think about how you would feel if you received an item that you didn't want; in some ways it is a nice gesture, however, if it isn't something that person wants it just becomes clutter to them and a waste of money. Therefore, it is so important to do your research and get items that the person you are buying for actually wants.
Extra expenses that occur when you actually go shopping. You don't want this money to come out of your Christmas budget, but you will need some extra money whether it is for food and drink or parking and travel costs. You must have access to this money and plan in advance as to where you are getting this money from, which stops you from dipping into your Christmas budget and then having to reduce areas within this budget to make allowances for the added expense.
Review: only by doing this will you be able to assess your situation. You have to work out whom you have purchased gifts for and the amounts you have spent. This review is one of the most important tasks that you need to do to ensure that you are on track and within budget on your Christmas shopping trip. If you have overspent in one area, it allows you to bring your budget back into line and to reassess the items you still need to purchase.
If you use these five things when you are doing your Christmas shopping, you will be in control of your budget, you will know what you need to buy and the best prices for these items. By reviewing your budget and your shopping list together, you will be in a better position to have a credit-free Christmas and this is always good, especially for your budget in January!
Enjoy The Christmas Shopping Experience
I have always panicked when it comes to Christmas shopping. I want to find the perfect gifts for the right money; I am not interested in gifts for me. The most important people for gifts have always been my children. However, I would stress so much that they had the best gifts I could afford, never on credit, which would make me forget to enjoy the time with them. I made sure everything was perfect, what I forgot was to make those memories on Christmas morning; to take the time to soak in those happy feelings, instead I worried about the areas I couldn't control.
What I have now learnt is to enjoy those moments, reduce the stress I feel by taking my time and enjoying myself, for me this is a well-deserved break from the routine and to sit back and enjoy the moments, watch the world go by before taking that deep breath, jumping back into reality, and moving forward.
I never thought I could enjoy that shopping experience, but I look forward to shopping trips as long as I remember to plan the trip. I need to know what I need, the shops I need and the budget that I have for the shopping trip, with the best part going over my list, checking in my budget, and making sure I haven't overspent in any category.
What I use to plan my shopping trips is a simple A5 pad, it allows me to make the notes I need and it is easy to carry around with me.
Therefore, I have learnt that by preparing for the shopping trip, knowing my budget and what I need, means it is enjoyable and lots of fun. I now realize that perfection never happens, things try to derail any plans but by sticking to the basic outline I get so much more achieved than ever before.
If you are looking for more articles on this topic head over to the landing page where you will find links to other articles on Christmas.
What is your top Christmas shopping tip?