5 Budgeting Tips To Save You Money
Making a budget is the easy part of budgeting; it becomes more difficult when you have to put your plan into action. Implementing all the thoughts and ideas you have put down on paper is difficult and there will be times that you are going to fight your budget and demand that it is more flexible and allows you the freedom to spend money. However, it is important that you get back to the point where you are under control, that you know where you stand in a financial position, having budgeting tips that actually work and can help you is important to keep you focused and on track.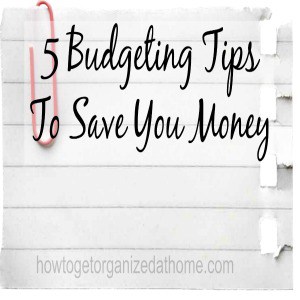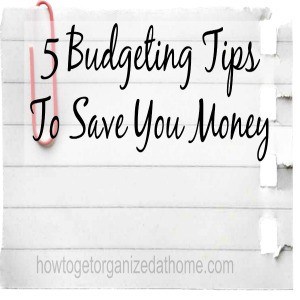 Budgeting Tips To Help Your Budgeting
As with every budget it is important that you build in flexibility, this can prevent you from falling over at the first hurdle. It is for those little emergencies over the week or month. If you don't have the wiggle room and something breaks your budget you might give up, if you have flexibility built-in, it can save you from giving up.
Work savings into your budget from the beginning and put this money away, if you leave it in your current account chances are you will spend it before you get round to saving. I dislike the idea of having an automatic transfer because I need to know what my bills are and how much I will have spare to save, so this amount needs to reflect reality and not just an ideal.
Being a shopper that looks for the bargains is important; you need to know your prices of the everyday items that you buy. It will then allow you to spot the bargains. It is not always the best option to use coupons; sometimes it is cheaper still to buy the generic brands without the coupons. It is so important that you know prices so you can spot the items that you normally buy when they are at a lower price. Using loyalty cards can save you money, but only if the goods are at a low price. A supermarket has started price matching against Aldi and Lidl and whilst this is a good idea that you know you could have saved money and they will give you the money back eventually, I would rather have the money now, which is just one reason I shop in Aldi every week. They have great products at a low price.
Transferring credit card debt to the next 0% balance transfer when the offer period runs out might not always be the best option. These companies still need to make money and they do this by adding a percentage to the amount you owe. Sometimes it can work out cheaper to take a low-interest rate credit card that has no transfer fees to worry about, it does mean that you have interest to pay each month but the overall cost could be lower than some other deals. It is important to work out the best option for you and your circumstances.
Paying down your debt will, over time, save you money. It will mean paying less in interest payments over the course of the debt. There are different options open to you from the snowball method, debt consolidation and even the final option of bankruptcy. Before you get to bankruptcy make sure you have tried all other options first. Surprisingly enough you will need to have an amount of money in cash to pay for the bankruptcy order and this is quite large depending on where you live.
There are loads of ways that you can save money when you create your budget; the hardest part of budgeting is sticking to the amounts that you have written down and worked so hard in creating; enjoy the process and it will get easier.