10 Tips To Get More Tasks Completed
It is easy wishing that there are more hours in the day, this would enable us, in theory, to do more of the tasks that we want to complete, but in reality, it might just increase the time that it takes to do the jobs and tasks you already have planned. Working effectively and managing your time depending on the tasks you have to complete, is easier than wishing there was more time. The chances are you are not working effectively and you might need to change your focus so you can refocus your day into a more productive use of time and get more tasks completed.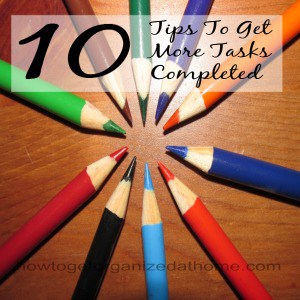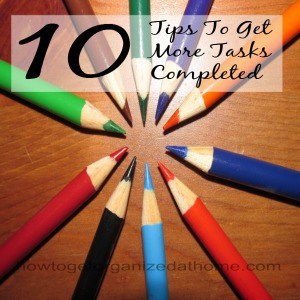 Affiliate links support How To Get Organized At Home
10 Tips To Get More Tasks Completed
Don't procrastinate, this is where you put off the job or tasks thinking that you haven't got the time to do the job. This is the biggest reason that many people fail to complete tasks, they are unable to focus and complete the tasks and making the job seem larger or more difficult than it might be.
Be prepared, this might be the motto of the Scouts but it should form part of your everyday life. If you have not taken the time to get the task ready, there is little hope to complete. For example, if you are looking to organize your paperwork at home, but have not sorted a place to put the piles as you sort, how are you going to perform the task in hand?
Write down the steps of the tasks; break it down so you are able to cross off every little step moving you closer to completing the project. It makes delegating tasks easier and it allows you to break the task down into smaller chunks that are more manageable.
Sometimes the most difficult of all is the starting of the tasks; have you planned and prepared enough to allow you to move through all the doable tasks? If so then it is important to take that first step to completion.
Starting with the hardest task of all will allow you to move forward, quicker than you might have thought. It will give you the confidence to do the less difficult tasks and to make real progress during the course of the day.
It is important that you limit the list of tasks that you plan to accomplish in just one day if you complete these then add one more at a time from your master to do list, this shows you have accomplished what you have set out and it will make you feel positive moving forward.
Maintain a rough schedule over your weekends and time off, this allows your body and mind to adjust quickly back into the working week.
It is important to know the things that can distract you, from children to social media. Knowing how to deal with these distractions and to find ways to manage them is important in ensuring to get more done during the day.
Set time limits for your tasks, it will make you focus on the tasks at hand and help you to restrain from getting distracted and not achieving what you set out to do.
Reward yourself when you complete a task, it could be something as simple as a few minutes on social media or a walk, even a hot drink. It can make you look forward to completing the task.
Therefore, if you are looking to get more done in your day you might need to address how you use your time and if you have planned sufficiently for the tasks you hope to complete. It is about finding the right system for you that allows you to get more tasks completed.
What is your best tip to get more tasks completed?
Looking for more articles on this topic? Head over to the landing page where you will find links to other articles on organizing your home.
I wrote another article I think you will enjoy! 8 Things Organized People Do Daily.