The design of the car is to protect those people who are travelling in the vehicle and if it's involved in an accident, the protection built into the car is there to protect the passengers and driver as much as possible. Do you put a child in the front seat of your car? This is where many people just don't understand that an air bag designed to save the life of an adult passenger isn't suitable for a child, even if they are in a car seat.
The Rules Regarding Children And Car Air Bags
It is important that you put the safety of your children first when you take them out in the car. Accidents are just that, they are not planned and even if it is a short trip that you do every single day there are no guarantees in this world that the next trip is going to go perfectly, accidents happen and that is just the way of the world. However, ensuring your children are safe whilst they are in a vehicle is important and a safety feature built into cars to protect the occupants can in fact do serious harm to children.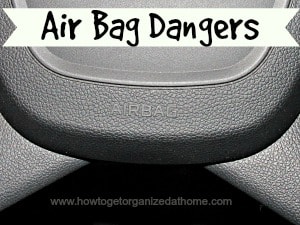 The air bags that are now fitted as standard in cars are fine for adults if involved in an accident but if a child is in the seat it can cause serious problems.
Air Bags and Children In The Front Seat
Air bags and children just don't mix, it is important that you never put a rear facing car seat in a front seat if the air bag is left active. Some cars you can turn this off and this is advisable, it is better to have children in the back of the car at all times, if this is possible. All rear-facing child car seats are better at protecting a child if there is an accident but if they are in a seat and an air bag goes off hitting the back of the seat this alone is going to cause problems.
Children who are under 135cm tall, or who are in a fitted car seat in the front of a car, and get involved in an accident, the child will be hit by an air bag that's designed for an adult with stronger bones and the ability to control their body in the case of an accident. The result is more damage to the child, even death.
The average speed of an air bag going off is 200mph, this is fast, the damage this can do to a child is a lot and add-on the impact from the accident and the injuries can increase.
The best position for a child, as long as there is a 3-point seat belt is the middle seat with nothing in front of them because they are not going to hit the seat in front of them.
Child Safety
Putting the safety of any child first is important and if you stay firm with your children about car safety from day one, then it becomes part of the process that they learn to follow.
Don't allow children to pressure you into allowing them to sit in the front because their friends do, your child's safety is what is important to you, stick with it.
Therefore, if you have children it is important to understand what you need to consider in protecting them in case of an accident whilst in a car. Never put a rear facing car seat in a seat that has an air bag switched on, and ensure a child is properly strapped in, preferably in the back of the car to protect them from as much harm as possible if they get involved in an accident.