It is important that you consider the budget that you have to spend on the food and the other items that you need for Thanksgiving. There is more to spend than sometimes you realise and keeping the spending within a budget limit will help you enjoy the season, preventing worry by spending more than you can comfortably afford.
Knowing the money, which you have allocated to Thanksgiving and the items you need to purchase, is key to preparing a Thanksgiving budget that will work for you and your family.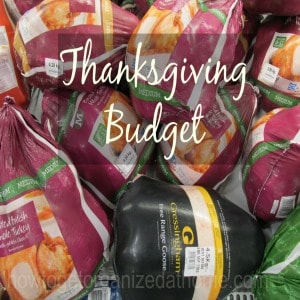 Before you can create a budget that is going to work you must have thought about what you intend to do, obviously you will need a larger budget for food if you are having family over for Thanksgiving dinner. If you are going to family or friends for the meal then this aspect of your budget will see a reduction, but you might need to take a contribution or a gift to them instead; this will increase a different area of your budget.
How To Create A Thanksgiving Budget
It is important that you start somewhere, I like to have a figure in mind as to the amount I need and for this reason I look at the prices of things that I would like in an ideal world and note these down.  I want to know the cost of the things I like and what my family likes; but it is also important to include what we need.
Food
Special clothes
Treats
Activities
It might be possible to stretch your budget further than you anticipated if you are able to use the shops that are near, to find the best bargains possible. You might find some stores are offering out coupons and you can use these to reduce the costs of your shopping; it is possible to find these deals in your local store or alternatively you can check out the deals online.
Looking at the amount of money that you have put aside for your Thanksgiving is important; you need to compare this list to the list of things you need. If there is a difference and your budget won't stretch then you will need to reduce the amount of items that you need to purchase. This is possible if you learn the technique of prioritizing your lists.
List Your Thanksgiving Priorities
As with everything, if you number the items on your lists as to the most important items being closer to the top and the less important items at the bottom, then you will quickly learn what items you can drop off your list if you start to run out of money.
By learning to prioritize teaches what are the essential items and those items that are a luxury. Often we group luxury items in with the necessary items and get confused as to what is necessary and what items you can live without and not miss them.
If you are aware of your budget and the cost of the goods you need to buy, by going through your list and prioritising the items you can quickly see the items you can afford and can cross off the list the items that your budget won't stretch to.
If you are using coupons, you might find that you have more wiggle room, enough for an odd treat or two.
Therefore, before you start spending money on Thanksgiving be sure to check your budget and the areas that you need to spend the most money and have a plan as to how you will make your budget work for you and your family.