Fed Up With A Boring Doormat
I was coming home and seeing nothing to make me feel good and happy to walk through the front door. What was greeting me was my to-do list and all those other little tasks you think of to do. This wasn't helping my mood or how I felt. I struggle to go out and when I do go out, I don't want to go home. I just didn't feel that welcoming warmth, walking in the front door. I needed something to help brighten my mood, something with a pop of colour to make me feel inspired and proud. It then hit me, it was the doormat.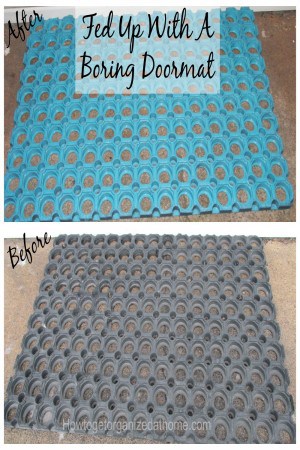 Creating Happiness With My Doormat
I didn't want flowers by the front door, it isn't the weather for them and it is not something I wanted to do. I didn't want to spend a lot of money, and there was nothing wrong with the doormat.
The doormat was doing its job. It reduces the amount of dirt that comes into the house. I didn't want to throw it away because the black mat is the standard colour doormat that you can get.
I researched; did you know that you can spray paint them? Well, it was something I thought sounded like fun. It meant I wasn't restricted in any way on the colour. I could have that pop of colour, something to brighten my return home.
The Decoration Process
I checked out the paint to use; a plastic paint as the doormat is plastic. I checked a few outlets before deciding on the type of paint and the pricing, I went for the best value option.
I had an old box that was perfect for the spraying the mat. The doormat has holes so I needed a solid base that didn't matter if it got splattered with paint.
I spray-painted it and left to dry. I knew it would take longer to dry as I left it in the garage and the day was cold, so left it a few hours to dry. Good job I did the task in the garage, as the fumes were quite strong.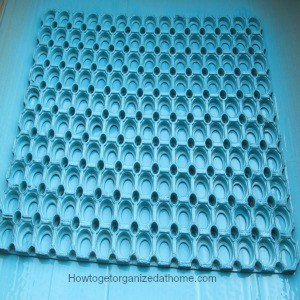 The result is awesome, it looks great. I smile when you walk up to the door with it's bright and cheery welcoming. It allows me to go back to those happy feelings when I walk in through the front door.
It makes me smile and think of the good things instead of focusing on the bad stuff!
Why I Feel Low Going Home
I think I am feeling low going home because of the change in the seasons. It is getting dark earlier and light later in the mornings and there isn't that brightness in the day.
I just needed that touch of colour to help lighten my days and the doormat has done that. I come home and see it before I open the gate and it is bright and welcoming.
In some ways, I am glad that I felt low coming home. It made me look at my front entrance, I needed something bright and makes that statement about my home. It makes me feel proud, happy and OK with doing all those little jobs around my home.
Therefore, for me it has been a success, it has brightened up the front of my house and made me feel good, which is what I should feel when I go home.
If you are looking for more articles on this topic head over to the landing page where you will find links to other posts on improving your home.
What colour would you choose?