Stressing and panicking about the holiday season is not going to make it a fun time, you need to enjoy the season like the rest of your family and friends. Getting stressed and worked up can lead to serious health issues that might need professional help.
Depression is often a side effect of stress and taking on too much. It is important that, if you feel there is something getting you down, you talk to a professional, like your doctor. They can help to put in place steps to make you feel better.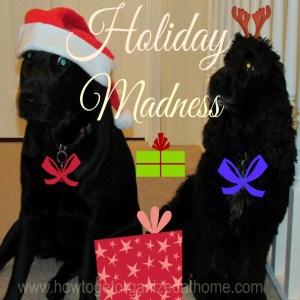 How To Handle Holiday Stress
Dealing with holiday stress is about planning and organizing, it is not about having the perfect holiday season, because this will never happen. There are times when things don't go to plan, or a party isn't what you hoped. This is fine, it is part of life and learning to accept the ups and the downs is key.
It is important that you realise you are not going to be able to attend every party or function, and you certainly won't be able to volunteer for every opportunity going, it will cause you to become stressed and this can have an overall effect on your health.
Setting realistic goals and the amount of tasks that you can actually take on is important. Taking on too much, is going to cause you to let someone down who you promised to help or you don't give all the help possible because you have stretched yourself too thin.
Plan and set a realistic amount of parties, events that you can attend, the same with the projects where people want you to help. There is no harm in saying no, you have too much on.
If you start to feel stressed or overwhelmed then this is a trigger, an indication to make you ask for help from friends or family to help.
Set Realistic Goals
It is important that you can set budgets for the different areas of the holiday season and stick within these budgets. Breaking a budget will mean that you need to find extra money and this is stressful, how do you cut the food budget during the holiday season? It is not easy and the temptation to break the budget and worry about it later could allow a free fall that can take months to repair.
It is difficult to admit that you can't afford everything and whilst this can cause you to feel that you are letting down your family, it is important to remember that while it might be hard, you as a family are learning valuable skills to live within your means.
Split the money you have for the holiday season into the different categories including presents, food, entertaining and clothing.
If you are trying to achieve certain goals over the year don't allow the holiday season to prevent you from practicing or from reducing calories to lose weight. See it as a challenge that even during the holiday season it is still possible to continue on your journey and this is key to finding fulfilment and accomplishment.
Therefore, if you do feel that the stress of the holiday season is getting you down, or you feel that you're being overwhelmed by the tasks that you have, take a step back and put yourself first, see if there are ways in which you can delegate some of the work. Asking friends and family if they can help is important, it is not a season where you work yourself into the ground doing too much. This is where you will begin to resent the season, not because you hate the holiday's but because of all the pressure on you, and your wish for the holiday season to be perfect, that you end up not having the fun and making family memories.