How you use storage systems at home is a personal choices, learning how to judge if you are using them to their best advantage is another matter. Getting the most out of a storage system will mean that you will organize your home and make it manageable, this can make your life easier for you and your family.
Knowing what you need to do with storing of items will enable you to make the right decisions on the storage system for you. You need to understand what the storage system can do to help you, it will need to fit into your home and work with what furniture that you have already got. There is little point getting a storage system that doesn't look good in your home, you will quickly lose interest in putting the items away.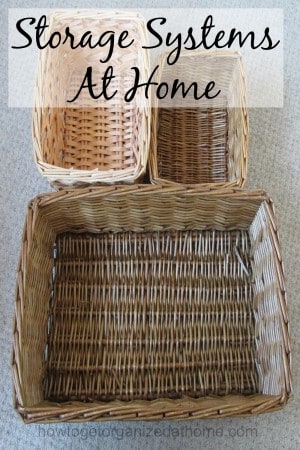 Storage Systems Boxes And Shelves
It will depend what you are looking to store if you are looking at the options for storage systems. If you use open shelving the items and the shelves will need to me moved on a regular basis in which to clean. If you opt for the boxes it will mean that you will not need to clean individual items as often but it can mean that you just store the items that are in the box and you never look at the item again. This could indicate that the item is not required by you and you could look for alternative accommodation for this item, sell, re-home or dispose of.
The aim of organizing is to find a designated spot for all the items in your home; they need a place that they can call home too. It will mean that when you are tidying objects away you will have a place to put them.
Baskets Without Lids
If you are going to choose a basket or boxes to put items in, unless they stored away choose boxes without lids. This will mean that the items in the boxes will still be used, if you put a lid on the box the items won't go in their proper place and the boxes can look untidy very quickly. If there is no lid then the items can clearly be visible and this will enable you to keep the items in the place that you have designated as their home.
Organize Slowly
If you are looking to organize your home then you are going to need to take your time, choose the right storage solutions for each of your rooms, and make sure that you look at all the options available. You don't want to get loads of storage solutions and then find that they don't fit into your design ideas. If you work slowly from room to room you will be more likely stick to the organized spaces better because you will have time to learn the new homes of all your items before moving on to the next room.
If you are looking for more articles on this topic head over to the landing page where you will find links to other posts on household.