It is the time of the year again when bedding plants are a popular choice amongst gardeners. They are able to provide colour and to fill in gaps; they also look great in hanging baskets and pots, and you don't need to have borders to have bedding plants. Making the most of your borders or outside space can add colour and enjoyment to your garden. These are relatively short-lived plants and tend to just last the one season, but in that time they can grow quite big and produce flowers for you to enjoy.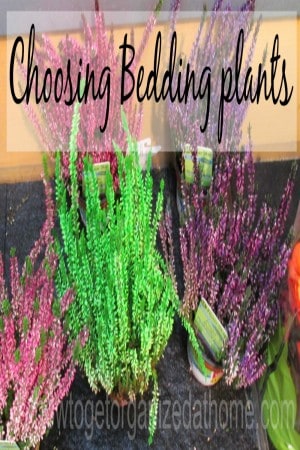 Choosing the right bedding plants
Knowing where you are going to position the bedding plants, before you go to purchase yours, is important because some plants like the sun and others prefer a sheltered spot.
If you are purchasing bedding plants for pots or hanging baskets, beware that they are going to need watering every day, this ensures they have the moisture they need to grow. If you are looking for a stunning display, you must consider plant food as this can help them develop quicker in their short life and give you an even better display. There are different types of plant food and choosing the right food will depend on a number of different factors, including your ability to remember to add the food if you are putting it in the water. There are types of plant food that you add to the soil and over time the food breaks down and releases the goodness into the soil; this is great if, like me, you tend to forget this task.
Some of the popular choices of bedding plants are:
Petunias
Pelargoniums
Pansies
Fuchsias
Viola
Dianthus
Busy Lizzy
Marigolds
Verbena
The plants that are going to perform well, you need high quality plants; this is why you must check the plant before you buy them. Don't be afraid to look at the root structure of the plant and to make sure there is plenty of new growth showing. If the root structure doesn't look strong then these plants aren't the best choice. It doesn't matter on some plants if they have started to flower, as long as you dead head the plants when the flowers start to wilt it will encourage more flower heads to form and continue the flowering season.
Where you buy the bedding from is a personal choice, there are many shops and garden centres that offer a wide selection of bedding plants, but check they are healthy specimens before you buy.
It is possible to grow bedding plants from seed; for me it is a mixture of both, I like the satisfaction I get from growing the plants from seed, but I also like purchasing some bedding plants that are ready for planting out. It is important that, if the bedding plants are inside when you purchase them, they aren't normally hardy; they will need hardening off before you plant them in their final place.