I suffer from back pain and I know that it is partly due to my weight, but also a lack of exercise. I have thought about some form of strength training which might help improve my core muscles, help with my posture and ease my pain in my back. The problem I have is a lack of motivation and poor will power.
Posture And Back Pain Improves With Strength Training
I know that my posture is poor, I sit down too much during the day and I am overweight. If I were able to move easier and hold my body in a better position, the pain when I move would ease. Would it urge me to do more exercise?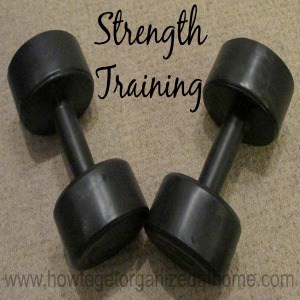 Going To The Gym
To just get up one day and decide to join a gym is one thing, going and using the gym to the fullest is a completely different concept. You need to have will power and commitment to use the facilities to the fullest and being worthwhile for the money you spend.
Confidence is important to getting to the gym, for me I have very little and this stops me from going, and yet when I have been to the gym before I loved it. I loved to run on the running machine, which was when I felt good. Now I feel as though I could crash the machine just standing on it!
Yet, I know the reasoning isn't sound for not going but I add to the excuses with the increased costs that I would have to account for and I have managed to talk myself out of ever stepping foot in a gym again.
Exercising At Home With Strength Training
It is possible to exercise at home, there are so many options open from TV channels, DVD's even the internet will all have some form of strength training  exercises that will mean you don't have to step outside the comfort of your own home.
However, how many people are able to exercise enough at home? Finding the time and having the willpower to spend just five to ten minutes a day can be challenging when you are not motivated to move.
Try finding a partner who is able to push you to ensure you have completed your exercise for the day. You can return the favour and help them in a daily activity they are looking to complete. It is about having to account to someone else why you haven't found the time to do something that is positive.
It is learning to beat those negative feelings that will try and creep into your mind, and if you find it difficult to change these negative thoughts then getting help, support and motivation is key.
For me I am choosing yoga, I am going to use this to improve my body with strength training and yoga. It will help to relax my mind and body as well as helping to improve my core, I do incorporate some yoga into my week but I want to increase it to at least once a day, at present it is when I remember or I am feeling stressed.
The only way that I can do this is to commit it into my diary and my daily plan and see where it takes me in the future on my journey to become fitter and healthier.
Therefore, my journey is different to yours, it depends on the strength training exercises and equipment that you choose. Will power and confidence to put yourself first is important, for you to do all the jobs around your home, work and with your family you must put your health first and this is something that I am now learning to do.