With America enjoying Mothering Sunday today, what a better way than to show mums across the world that we care and to suggest some fun activities that you can do with your mum. It is about making that special time for families, making memories and traditions, which can and will, give you the opportunity to share and make that special time for those important people in your lives. While some businesses commercialize holidays, this is not what I consider appropriate for any celebration, however, it is still an important time to thank you to the ones you love for their help and support over the course of the year.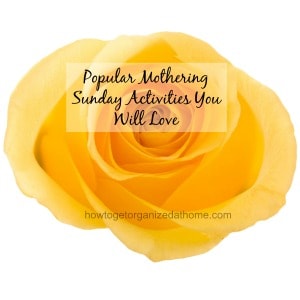 Affiliate links support How To Get Organized At Home
Mothering Sunday Activities You Will Love
Finding things to do that you can enjoy is not always easy, it is difficult to try to visualize activities. Sometimes you either end up doing the same activities over and over again or you don't do anything and this has a negative impact on making those memories, which last a lifetime and traditions that you can pass on to future generations.
Mother's Day, no matter where you live, or if you choose the actual official day, but remembering those we love and those people who gave so much of their life to give us a good life, are important and we should never forget the sacrifices they made and the memories that you shared with them. Celebrating family and those ties and connections that make you who you are, are important, you don't have to jump in a car or a plane and spend hours visiting, but letting them know you care and are thinking about them are the most important actions you can take.
I have found a great resource that is perfect for sharing, it is a mother and daughter journal, it is about sharing and connecting together. It is a great way to talk about things without actually talking and can break down barriers that prevent developing deeper relationships with your mother.
What's your favourite Mothering Sunday activity?
I wrote this article recently and I think you will enjoy it, 25 Gifts For Women For Any time Of The Year!