Plan to organize your year by taking control of your calendar; it is the most important tool that you have at your disposal to keeping you organized, reducing stress and preventing you from being late for appointments. Remove the stress by organizing your life and you will find that life becomes manageable when you use a calendar or diary, you will know what you need to do and when and life won't be guesswork any longer.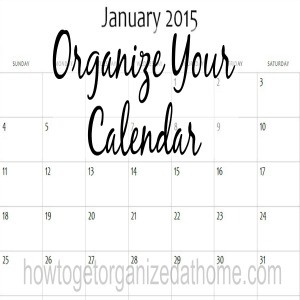 What Calendar To Use
This is a personal choice and it depends how you like to work as to whether you choose a calendar on the wall, a diary that you write in or an online version that is electronic, the choice is yours; it is about what you find works for you. It can take time to work out the right combination. For me we have a family calendar, where appointments go for the family so everyone can see them, but I also have a dairy, which is on my desk and I can see the upcoming events too.
It is possible to download a free calendar from online, which you can print. You can purchase a diary or a calendar from your local shops or you can use an online calendar, which you use solely online with different computer devices.
Google Calendar is great, you can even have multiple calendars working to manage different areas of your life, like work and home life. You can set it to ping up reminders and you can use it on multiple devices without having to pick up a single pen.
However, this method isn't suitable for everyone, I don't like on-line calendars and diaries, I just can't get the completed feeling that I get from having a paper based system.
Paper Based Diary's And Planners
I have used many of these over the years and until I found my current system, used to create my own using a spiral notebook. I now use the Staples ARC system, which I love, I am able to put the pages in that I want and I can add to it at any point, it is flexible and usable and it meets my needs perfectly.
Your aim at finding the system for you is the one that you can work with, use, and enjoy using too.
How To Use And Take Control Of Your Calendar
To take control of your life and to plan what you need to do is an important step, it is about knowing where you need to be and what you need to do, to be in control. Knowing when you need to leave for an appointment is just as important as putting in your diary the actual appointment.
List the chores that you must do, but remember you only have 24 hours in the day and it is not possible to schedule more work and complete it than is humanly possible.
If you have a large task to complete, breaking it up into smaller projects can make it easier to manage and it can be easier to place these smaller tasks into your day, making it easier to stay organized.
How you write notes or tasks in your diary depends on how you work. I love lists, I love to write lists and cross them off as I complete the task. This gives me a sense of accomplishment and achievement, but I also group like tasks together, so all my chores for the day, no matter who is doing them, they are together; my business goals get grouped together and any appointments again grouped together.
Therefore, by taking control and noting down the tasks you need to do your appointments, you will start to take back the control of your life by controlling your calendar.