The time is running out for Thanksgiving, but often the tasks that you need to do to get ready are probably stressing you out, there is nothing worse than forgetting to do something. It can have a negative impact on how you perceive the holiday and how it went; this isn't how you should spend Thanksgiving. Getting your last-minute tasks for Thanksgiving organized and completed isn't as difficult as you might imagine, all it takes is some planning and some thought for all those last-minute tasks for Thanksgiving and getting them into shape so you don't forget anything.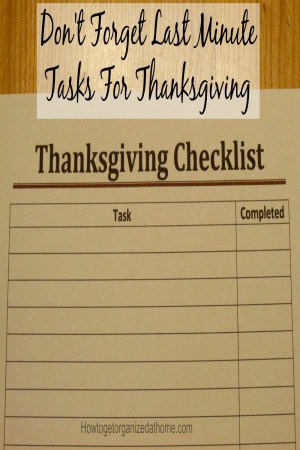 Affiliate links support How To Get Organized At Home
Don't Forget Last Minute Tasks For Thanksgiving
I know how I feel if I forget to do something, it make me feel annoyed and sad that I let myself down for forgetting the task, no one might even know that I forgot the item, but I know and that is the hardest thing; I feel like I have let myself down by forgetting the item.
I put too much pressure on myself; I think that perfection is possible and when it isn't I always blame myself. In reality, no one really notices that something didn't happen or something didn't look as perfect as I had hoped.
I combat this by making lists, often they are way too long to complete and when you are just getting those thoughts out of your head, writing them down can help to clarify the ones that you need to do and the ones that you can cross off.
Without this time with my list, checking the items that are on it and the time available, I am able to make those important decisions on the items I can cut from the list. I would not know what was practical and what was too much. A plan helps you to work out at even the most stressful times, as to the course of action to take.
Creating Your Thanksgiving Checklist
Creating a Thanksgiving checklist is a great way to ensure that all those tasks are complete and you haven't put more to complete than hours left in the day.
Try breaking down your checklist into different areas, this way it will ensure things aren't missed as you make your way down the list.
The categories that you make will depend on the tasks you have left to complete. So ideas of different categories could be:
Clothing: are you dressing up for the festivities? If you are dressing up make sure everyone has the items they need, if they need pressing or washing then do this in advance.
Food and cooking: if you are expecting visitors then you will require a plan for the extra food you need to cook. You will still need food even if you are not expecting visitors and knowing when to put it on, saves time.
Travel: are you going anywhere? You will need money for fuel, perhaps food for the journey, entertainment for the children if it is a long drive. Do you need to take a gift for your hosts?
If you are expecting guests: then getting your home ready is important, it allows you to think about their needs too. Do they have a dietary requirement, are they staying the night, is the guest room prepared? All these questions need asking and the more information you have the easy it is to organize.
Housework: there is always housework to do; getting the major areas clean and tidy is important. Knowing the most important tasks and writing these down will help.
Decorations: you might have last-minute decorations to put out, for example on the table. You might need some last-minute decorations to add to the festive mood.
Timings: if you need things in the oven by certain times or you're expected somewhere else for Thanksgiving dinner, you need to know the time to leave to arrive in plenty of time.
Thanksgiving Planner
The more that you can plan the smoother the day will go, it will reduce the stress that you feel and will help to enable you to enjoy more of the day without the added pressure that you feel like you have forgotten something.
If you create a Thanksgiving planner, it will allow you to plan ahead of time, you might think talking about a planner is too late, the earlier you start the easier it is next year.
You can see what areas have worked well and if you want to repeat them the following year, you can only do this if you plan. If there areas of Thanksgiving that you felt were a total disaster then this information is important too. It can help to remind you what not to do the following year.
Keeping your holiday planners separate is a great way not burden your diary with another planner. However, I use the arc system and that allows me to add different sections to my planner as and when needed, so I spread out any holiday plans into my planner before the actual date and this allows me to plan everything I need to in advance.
I actually break my planner into two, I don't need more than 3 or 4 months at a time in my planner, so I have two planners and I just adjust them accordingly at the end of each month.
By adding things into your planner and committing to the item is important, only cancel in case of an emergency. If you treat your tasks as appointments and not procrastinate then your planner will work to perfection. If you want more information on creating the Ultimate Day Planner, then this article will provide you the information you are looking for.
Therefore, it is important that you plan tasks for Thanksgiving properly, ensure that you know what you need to do and the time involved. Break down your tasks into different areas, this will allow you to group the tasks together and that will reduce the time spent because you will not jump from one area to another. Record your successes for Thanksgiving, and any disasters, so that you can prepare in advance next year, to increase your chances of success and a lot less stress.
What are you planning for Thanksgiving?