Have you experienced high levels of stress that you just want to let go but are unsure how? You might find relief with yoga; it is my go-to stress busting exercise, I am not a fit person by any means but I do feel great after giving myself time with yoga, it can help release tension and stress and gives me a chance to refocus my mind.
Tension and stress in the body can make your day seem more difficult to cope with and can increase your ability to snap at the littlest of things. Removing this stress in yoga is a great way to relax from a hectic week or even just the right way to start your day.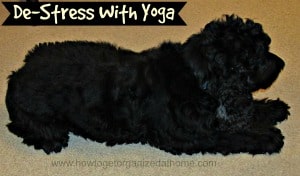 There are different types of yoga; it is an exercise regime that you use to meet your needs. There are different styles of yoga that help different areas, from fighting fat to de-stressing the mind.
Being able to unwind and relax while exercising is amazing, you are not jumping around like some crazy person but you are still exercising, helping to strengthen and tone muscles; it can help prevent falls through the strengthening of the core muscles making you look great and feel great too. Yoga is an exercise that is highly recommended if you are suffering from pain, especially in the back, but talk to your doctor first.
Finding the right yoga for you
There are many ways you can get access to yoga, finding the right choice for you is important. If you are confident to go to the gym, you might have a friend go with you, look at the classes available and ask to speak to the instructor, you will get an instant feel if you are comfortable in the class.
Choosing the class, which you want to attend will mean what the focus is for the class. If you are a beginner then it is important that you start with a beginner's class, but ask if there is a fancy name for what the aim of the class is. Some classes are for relaxation where other yoga, like hot yoga, is to make you sweat and rid the body of impurities and to increase the workout intensity. Just because there is a class, it mightn't be right for you, especially if you haven't the money for the class in your budget.
Alternatively, look on your TV; see if there are any classes on some of the fitness channels available. This is a great option especially if you can record it and participate when you are ready. This allows you to experience different teachers and sometimes different ways to learn. You will be able to get a variety of different people and they might have a weekly show, this allows you to get involved and not repeat the same routine each time. Changing the routine allows different muscles to engage and gives you a more balanced work out over time.
Hiring a DVD from your local library might be a great way to find a routine that you like; a great way to experiment with different presenters to find one that you like before you decide if you want to purchase the DVD for yourself.
Head to the internet for your yoga routine
If you just aren't confident in going out to a class, but you would like to try some moves that could help you take control of the stress and learn to breathe in a way that can help your body de-stress, I found this is the best way for me if I am short on time and I just need to spend 5 or 10 minutes on me.
I search for a short routine, a You Tube video works best as you can follow the guidance rather than following a set of pictures, to stretch and de-stress the body.
One of the routines that I like but I am not great at doing it every day though, is by Mandy Ingber, it is short and I like that for a simple routine.

What yoga sessions do you like to de-stress the mind and the body?
Therefore, if you are looking for an exercise regime that can help you de-stress your mind and body, you might want to try yoga. It isn't as difficult as some people might like you to believe and it does work.