Are You Ready To Stop The Overwhelm And Start Having A Plan So You Know What To Clean And When?
Organizing your cleaning schedule has never been so easy!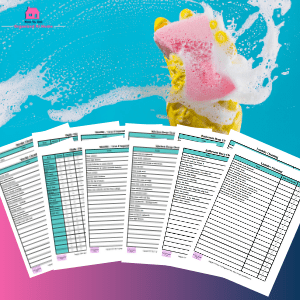 Are you feeling overwhelmed when it comes to cleaning your home?

Are you struggling to find time to clean? 

Are you unsure and want to know what to clean and when?
If you've answered YES to any of these questions, my Cleaning Pack can help.
TAKE CONTROL OF YOUR CLEANING
Imagine what it would be like if you had control of your cleaning, you could…
✅ Plan and organize your daily cleaning that helps you keep on top of those daily tasks.
✅ Organize when you will tackle those weekly cleaning tasks and get them done.
✅ Work out in advance when you need to tackle those less frequent tasks.
✅ Feel more organized with your cleaning schedule.
✅ Know when you last deep cleaned your kitchen, bathroom or laundry.
✅ Other family members can help you clean.
Not Sure yet? 
At least don't leave empty handed download my free Cleaning Today Printable. 
Grab My FREE Cleaning Printable
This will help you plan all your cleaning tasks for the day
This information is used to send you updates, promotions, special offers, and news. We won't share or sell your details. You can unsubscribe at any time. Check out our disclosure & policies.