I always think I am on top of my paperwork, I keep it filed and neat and tidy. However, I noticed a strain on my drawer, it wasn't opening so well, so I thought it might be time to pull out some of the old stuff and go through it. Little did I know how much paperwork was actually in my drawers, no wonder they didn't want to move. How does paperwork build up without noticing and then suddenly you have so much that you have to take stock and clear it up.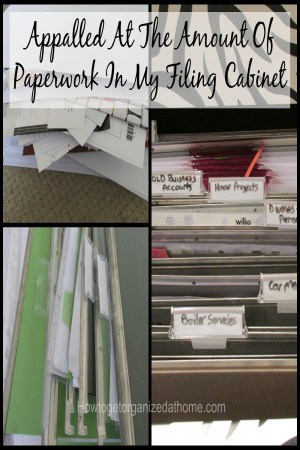 Home Filing System
I love organizing and to feel that I am in control of every aspect of my home and work life. I love planners and making sure that everything is in the right place and yet there are times that things slip through the net, I am not perfect in any shape or form and neither is my home; I am OK with that, well, better than I was!
But when I started to go through the files in my desk, I saw a pattern, I love paper too. I love to write, a pen in my hand and let the thoughts flow, I have found that it helps getting the ideas out of my head; the problem was the storage of all the different pages.
The solution for me is to cut down some of the writing on paper, and to allow me to explore other online options. However, there are times when pen and paper are the only choice and for those I will have to start going through things to make sure that I am not keeping items that I don't want or need.
I have found that it is too easy to make a hanging file for every single bill that comes into your home, what I need is fewer files and to break this into sub-sections. Then any bills or paperwork I have coming in get filed into fewer files and they look tidy, too.
How To Organize
If you pull all the paperwork out in one go, rest assured that you won't get through it in one day, it is going to take time, sorting them into piles of filing, to keep but not in the desk and those pesky items of rubbish that somehow manages to sneak in.
It is much better to tackle one file a day and just start working through the pile of papers, taking care to get them into the best possible shape.
I have found some great wipe-able file labels, so I can use a white board marker and just change the name of the file if it becomes obsolete. There is a snap down cover to prevent the file name being wiped out.
With the removal of much paperwork, my desk drawer is running more freely than it has in a long time and this is good news, any more weight could have broken the drawer.
Therefore, I was upset at the amount of paperwork that had built up over time and I hadn't gone through the file each time I added more; creating the problem that arose here. The solution that I am looking for is a way to ensure that I am on top of my filing and I don't find myself with lots of paper weighing down my drawers.
If you are looking for more articles on this topic head over to the landing page where you will find links to other posts on organizing paperwork.