If you are looking to choose the right bank account then you need to decide what you are using it for. There are different types of bank accounts and you need to find one that is going to suit your needs and to make the most of your money and your circumstances. Working out the best bank account isn't always a simple option and what you like with one bank, you might not like the rest of their facilities.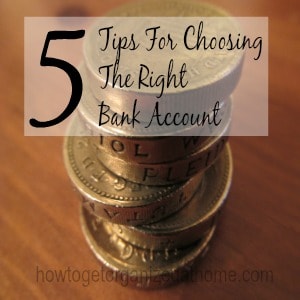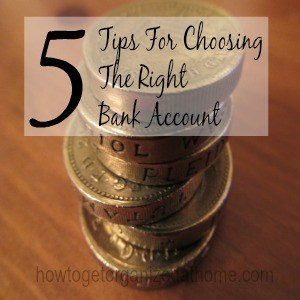 Make a list of the features that you are looking for; you must consider if there are any charges, the interest rate, the access to your money, if they offer debit card facilities, or if they offer an overdraft. Working out which items interest you the most in your chosen account is important, so too is the feel of the bank; you want good customer service, it doesn't have to be face to face banking but online facilities have become an expected service and these need to be secure. Knowing what you are going to use the account for is the first step to choosing the right account, if it is for saving then a current account isn't going to be the most appropriate for your money.
Choosing the right bank account for you is a process of elimination, get rid of the companies that don't offer the services that you are looking for, it can even be a feel, if you are not made to feel welcome why offer them your business. The banks location is important if you want to have access to your bank in person, otherwise there are options that are purely run online or over the telephone.
Be cautious if you are opening up a joint bank account, you will have some financial connection if you opt for an overdraft and if either one of you incurs debt then this will need paying; you might even be liable for the whole debt, even if you haven't spent the money. It isn't easy to deal with problems and charges if the other person withdraws the money that was to pay a bill, it is not the banks fault and you will both be liable for the charges.
When looking for a bank account remember that they will need to do a credit check especially if they offer you some form of credit like an overdraft. It will depend on your credit history as to the likelihood of being accepted for this or any form of credit.
It is important to know what interest rates they will pay, choosing the right bank account for you will depend on a number of different factors and sometimes it isn't always the one that has the highest interest rate that is right for you. Understanding how the account works and the amount you can withdraw is important, so that you don't end up paying out money for closing an account too early or withdrawing more than you're allowed, as per the agreement you will need to make in the beginning when you open the account.
Finding the right bank account is important, you want to keep your money in the right account which allows you the access you require and where you are happy and feel secure. It is about looking at the services they offer, what is the most important service that you are looking for and then working out which bank account is best for you and your needs.